Simple, Automated, and Robust Management for Digital Certificates
Our certificate management solutions take complexity, cost, and time out of managing digital certificates. This cloud-based platform enables businesses to have complete visibility and lifecycle control over any certificate in their environments along with the tools, support, and capabilities to reduce risk, quickly respond to threats, and control operational costs. Receive the most advanced certificate management solution available along with industry leading 24x7 support backed by the #1 leading brand* in digital certificates.
Manage all certificate types from a single platform

Domain Validation (DV) certificates
Organization Validation (OV) certificates
Extended Validation (EV) certificates
Multi-domain certificates
Wildcard certificates
Device certificates
Private Certification Authority service (Private CA)
Self-signed certificates
Code signing and EV code signing certificates
S/MIME email certificates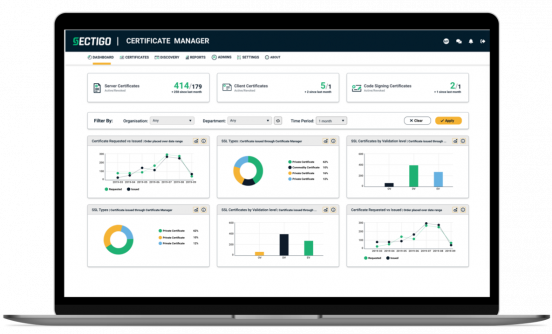 Full lifecycle control, automation, and visibility to maintain business continuity

Certificate Discovery – In-depth scanning that will uncover and monitor any certificates installed across an entire environment regardless of the Certificate Authority (CA).
Certificate Lifecycle Management – Simplified control over certificate lifecycles across the entire environment through one cloud-based portal.
Issuance – Instantly issue, DV, OV, or EV certificates for every pre-validated domain
Configuration & Installation – Easily configure and install certificates
Remediation – Real-time alerts to spot potential weaknesses and remotely fix or revoke certificates on demand
Renewals – Automated or manual renewal of existing certificates
Reporting – View the entire certificate inventory and access logs or historical data
Automation – Automate monitoring, notifications and renewals while being able to quickly provision and issue certificates to users or devices anywhere by leveraging our APIs and Active Directory integration.
Private Certification Authority Service (Private CA) – Provides a cost-effective way for customers to avoid risks associated with self-signed certificates while providing all the security and management capabilities.
Code Signing in the Cloud – Secure and manage code signing certificates by storing the keys in the Sectigo CCM PKI infrastructure.