ComodoCA DV Wildcard
Best combination of flexibility, compatibility, and value.
As low as
$359

/ year

Prices in US Dollars / USD
Why choose ComodoCA Wildcard SSL?
A Wildcard SSL Certificate saves you money and time by securing your domain and unlimited sub-domains on a single certificate. Wildcard certificates work the same way as a regular SSL Certificate, allowing you to secure the connection between your website and your customer's Internet browser – with one major advantage.
A single Wildcard SSL Certificate covers any and all of the sub-domains of your main domain.
Features & Benefits
Save Money and Ease administration by securing all sub-domains with a single certificate
Issued online in minutes - automated validation means no paperwork, no faxes, no delay
2048-bit next generation SSL certificates as recommended by NIST
99.9% browser recognition maximizes your potential customer base
Licensed for Unlimited physical servers
Free Trust logo site seal to improve customer conversion
Peace of mind with our 30-day refund policies
Expert Phone, Chat & E-mail support
$250,000 relying party warranty
Free SSL certificate management tool
Free PCI scanning service
Free website Daily Vulnerability Scanning
Secure Unlimited subdomains over Unlimited servers
For example a single Wildcard certificate for *.website.com can be used to secure:
payments.yourdomain.com
login.yourdomain.com
mail.yourdomain.com
download.yourdomain.com
anything.yourdomain.dom
If you have multiple sub-domains to secure, then a Wildcard SSL Certificate purchase can save you hundreds or thousands vs the cost of buying individual SSL certificates.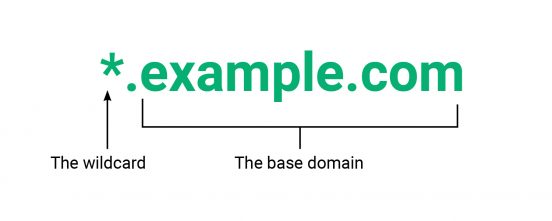 ComodoCA Wildcard SSL Key Features
ComodoCA Wildcard SSL Certificates have all the security features, compatibility and warranty of our single domain certificate and, unlike other providers, we do not double, triple, or spike the price of your Certificate for every additional license!
Each certificate comes with unlimited server licensing included in the price - meaning you are free to install it on as many physical servers as you wish.
Secure your website today!